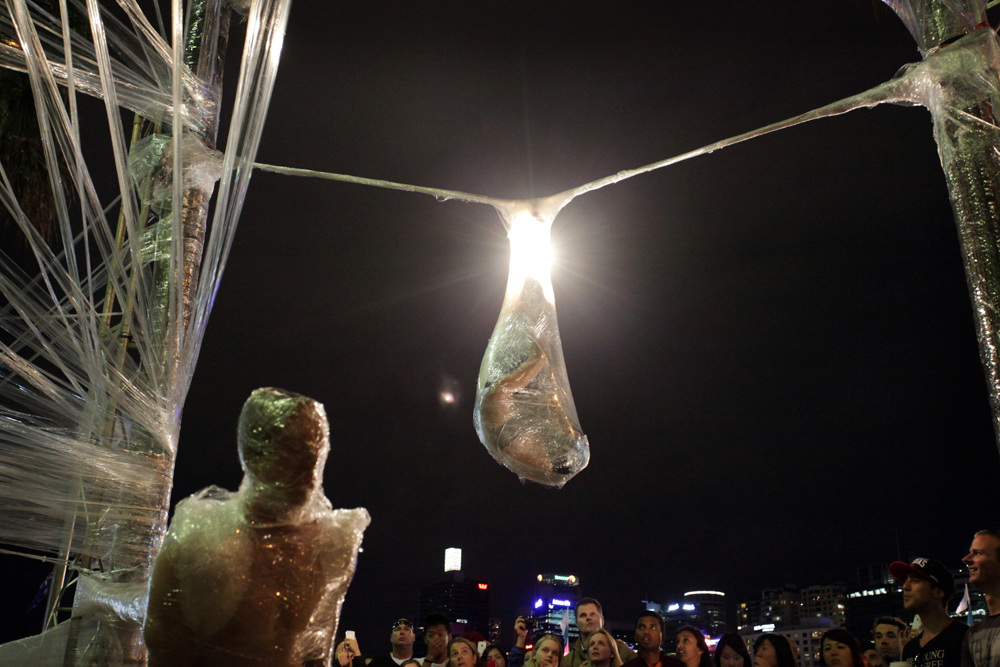 The audience is led one by one into a spider-web landscape. Within this world, an electric performance of physical extremes and dangerous intimacy takes place. Acrobats Skye Gellmann and Naomi Francis take us out of our comfort zones and reveal the essence of our primal dreams, desires and destructive tendencies.

Mothlight is an on going collaboration between Skye Gellmann and Naomi Francis. Since 2010, they have toured to 7 venues around Australia and overseas including the Stockholm Fringe Festival.

"Illuminated by a mere light bulb and buried within a labyrinth of strained plastic reeds lies Skye Gellmann's Mothlight world: a constructed space within which physical prowess is tested and the inner psyche investigated. Mothlight quickly descends into an intense and captivating performance, made up of just the right amount of elusiveness and directness so that the end result is a piece that encourages discussion rather than denies it." - Beat Magazine.
BEST CIRCUS, 2011 Adelaide Fringe Festival.


Specifications
40min circus show and installation
120 Audience Max. (Audience varies depending on space size)

Seasons
Brisbane Festivals 'Under the Radar.'
Melbourne Fringe Festival.
Judith Wright Centre for Contemporary Art.
Adelaide Fringe Festival.
Stockholm Fringe Festival.
Crack Theatre Festival.
Hoopla Festival.

Artists: Skye Gellmann & Naomi Francis.
• For more info visit the Mothlight Website